Stay at home...Grow at home - COVID-19
Stay at home...Grow at home - COVID-19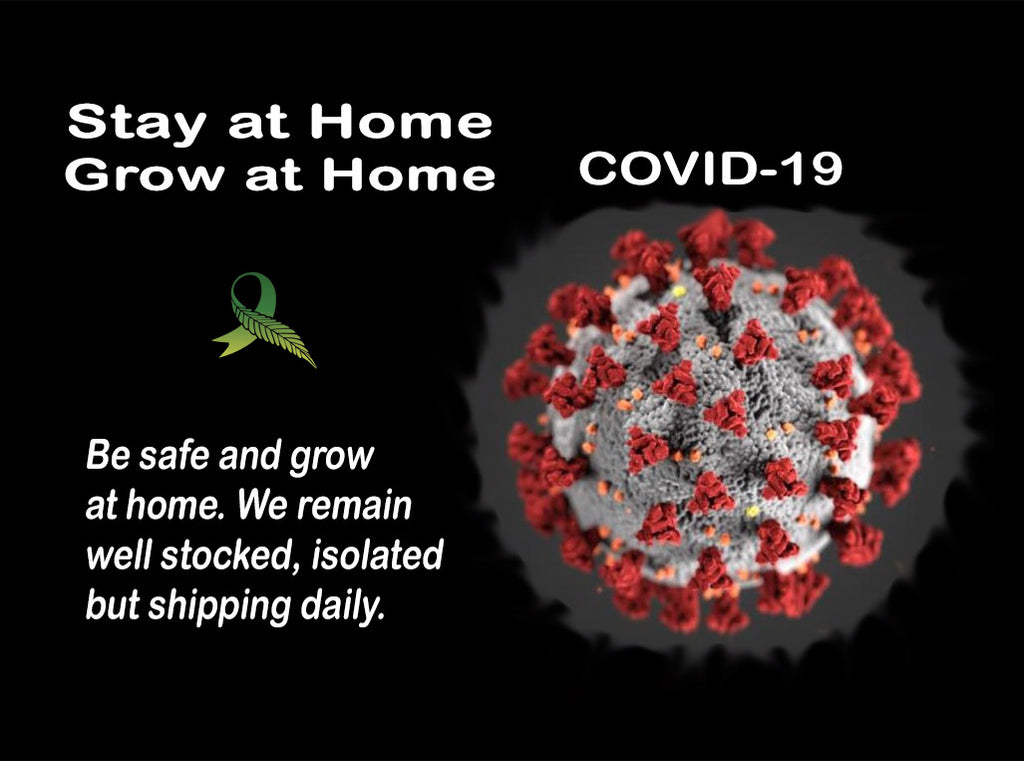 We hope you and your loved ones are safe at home and practicing CDCs recommended distancing and hygienic measures for Coronavirus.
If you're anything like me, you're thinking about safe ways to obtain food and other essential supplies such as cannabis. In both legal cannabis states and states where prohibition still exists, the physical procurement of weed adds a level of health risk that many people find troubling! At the risk of stating the obvious, here are some compelling reasons for a GROW AT HOME Victory Garden.
Applicable markets

L=Legal Markets (both medical marijuana and recreational markets)
P=Prohibition Markets
 Most transactions require physical exchange of cash. L,P
There are very few places where there are credit card transactions allowed for cannabis. L
Viewing and smelling product in all known dispensaries is now prohibited. L
Unknown contamination of product throughout the supply chain, i.e., seed to sell. L,P
Unknown methods of protection to employees and customers in dispensaries, No known existing regulations to protect the public from coronavirus in dispensaries . L
The nature of the transaction requires close proximity of buyer and seller. L,P
Some but not all dispensaries offer curb side pick up with pre order and reserved pickup time, still requiring human interaction. L
Some states have temporarily closed shops to recreational customers and medical patients. L
Long lines at cannabis stores are not conducive to distancing.  L
SHARING BONGS, JOINTS, VAPES, ETC. IS NOT CONDUCIVE TO DISTANCING OR PREVENTATIVE TRANSMISSION OF CORONAVIRUS. L, P
Cannabis/Coronavirus Headlines
Skymint selling recreational marijuana in Bay City, offers online ordering and curbside pickup Michigan
Virus likely dooms Missouri recreational marijuana campaign Missouri
Lawmakers consider recreational marijuana to fill budget hole Oklahoma
Why recreational marijuana legalization won't be in state budget New York
Recreational marijuana sales plummet after record week Michigan
Walled Lake dispensary launches Oakland County's first recreational marijuana delivery service Michigan
Medical marijuana and essential business during COVID-19 Louisiana
Non commercial growing resources
The beginners guide, GrowWeedEasy.com (Recommended)
How to grow marijuana indoors: A beginners guide, Leafly
How to grow just one marijuana plant at home, I Love Growing Marijuana
Save 15% on your purchase of SCROGGER products by using discount code "VictoryBlog" at checkout.